WHY WE HAVE THE NO.1 RATED DOG JACKET
The Cosy Waterproof Dog Jacket keeps your pup warm & comfortable through cold weather & the no-pull feature ensures you no longer hurt your dog's neck or cause them general discomfort as the leash is attached to the body D-ring & NOT their neck.
93% of customers reported that they feel a lot happier walking their dog knowing that they're warm & comfortable, whilst 35% followed up with a message expressing how they love that the jacket ensures that their pup's neck is not tugged anymore due to the no-pull feature.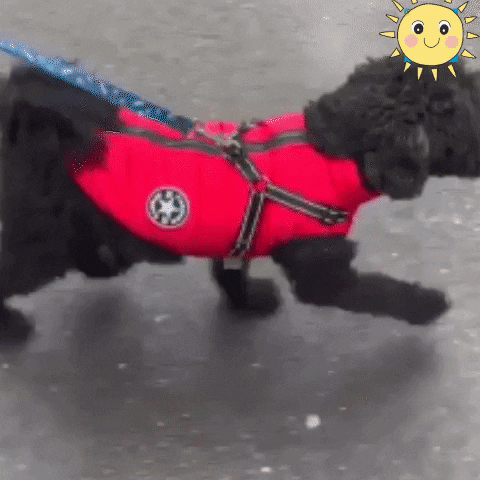 PRODUCT HIGHLIGHTS
🐾 KEEP YOUR DOG WARM & DRY - Ensure your dog is warm, dry & comfortable at all times, especially through the cold & wet USA winter nights. Dogs can be sensitive to the cold which can make them uncomfortable on walks & even cause health problems.
🐾 PREVENT DISCOMFORT & PREVENT INJURY - This jacket prevents general discomfort, strangulation, limb or mouth injuries, skin problems & neck damage. The no-pull feature goes around your dog's body instead of their neck to keep them comfortable & happy.
🐾 KEEP YOUR DOG SAFE - The jacket has a premium reinforced zip, which keeps your dog locked in safe & secure, so you can easily control them.
🐾 REDUCE RESTRAINT & ANXIETY - The easy-on, no-pull jacket not only prevents strangulation but also gives a calming effect through gentle body pressure. This is designed to prevent the feeling of restraint and anxiety (which most neck collars cause).
🐾 IMPROVE YOUR DOG WALKS - It's easier & more comfortable for your dog to walk with a jacket so they will enjoy their walks much more. The jacket has been designed for ultimate temperature control without any restriction of movement.
🐾 EASY ON, EASY OFF - A hassle-free experience, quickly & conveniently get your dogs jacket on & off in a matter of seconds.
🐾 SIMPLE & EASY ATTACHMENTS - The stainless steel D-ring makes it easy to attach your leash, rope, or other restraints to your pup's jacket.
🐾 100% WATERPROOF & BREATHABLE - Our jacket is made from a premium waterproof nylon blend that is also 100% breathable for the most comfortable experience. This fabric has also been stress-tested and resists tearing.
🐾 100% SATISFACTION GUARANTEE - We are committed to providing our customers with high-quality products and the best shopping experiences. If you meet any issues, just send an email to us and all issues will be solved within 24 hours.

Payment & Security
Your payment information is processed securely. We do not store credit card details nor have access to your credit card information.